Enjoy great restaurant experience
"What a find! Excellent restaurant experience!" /Tom O'Loughlin/
The restaurant Domini Canes is located in a place of historical significance: in the old town amongst the churches of St. Peter and St. John. From both the summer terrace and the tables within the restaurant you will see the picturesque St. Peter's.
The restaurant welcomed its first visitors in the autumn of 2009, to an interior dominated by the beige and rich brown so characteristic of the North. A light stone wall and columns in the space between the windows create an appealing place to which a chandelier and candlesticks on the walls add a pleasant cosiness. Peaceful jazz music in the background makes for a nice and relaxed atmosphere. There are no excesses in the interior; every bit, the furniture and the decorative details of the metal forgings included, have been created by Latvian craftsmen.
Let the restaurant take you on a journey into the culinary world, for it is an adventure worth taking whether you are considering a business lunch, a coffee break, a peaceful evening's relaxation, or meeting a friend over a glass of wine.
The restaurant's good fame is known far beyond the borders of Latvia and the restaurant has become a travel destination of gourmets. Domini Canes is one of the restaurants where the total of the bill matches the quality of the service, not even mentioning the professional mastery of the cooks and their ability to discover new taste combinations.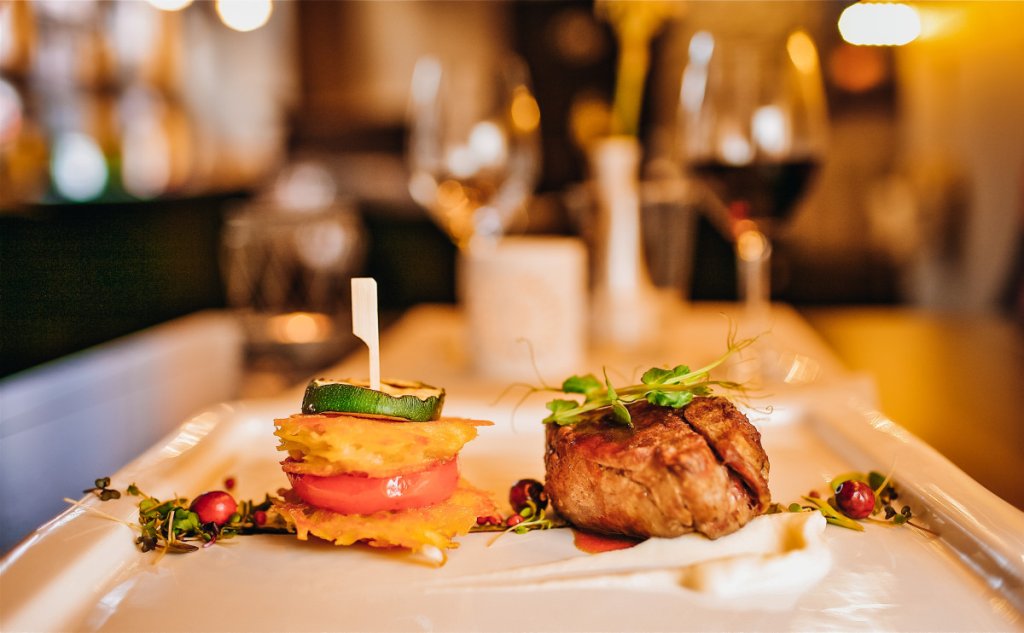 We have given our menu much thought: our chef has created an interesting selection of contemporary cuisine dishes. The menu is based on seasonally available local products, the riches that the Latvian fields and forests provide, featuring vegetables grown on small Latvian farms and mushrooms and berries picked in the woods.
We invite you to reserve a table in advance and carelessly indulge yourself in exquisite tastes and restaurant experience.